Tech
Why Telegram CEO is 'unhappy' with Apple
Telegram CEO Paul Durov expressed his dissatisfaction at Apple blocked a major update to the instant messaging platform that is under review without any explanation. The CEO made his position clear on the matter in a post on his Telegram channel.
"The only thing that we feel discouraged is that we are often unable to distribute new versions of Telegram due to the confusing 'review process' imposed on all apps by tech monopolies. use for mobile devices. For example, our upcoming update – which is about to revolutionize the way people express themselves in messaging – has been stuck in Apple's "review" for two weeks, without a word. explanation or any feedback provided by Apple" Durov said in his post.
Apple has also previously blocked app updates and has drawn some criticism for that. According to Durov, such an approach by the tech giant is "disgusting" as it affects developers' finances and leads to losses.
"If Telegram, one of the 10 most popular apps globally, is getting this treatment, one can only imagine the hardships smaller app developers have to go through. Not only is it demoralizing, but it also causes direct financial damage to hundreds of thousands of mobile apps globally."
Durov also raised the issue of the 30% fee that app developers have to pay to Apple and Google.
"This harm depends on the 30% tax that Apple and Google collect from app developers – this tax, they say, is payable on the resources needed to evaluate the app. Regulators in the EU and elsewhere are slowly starting to look into these abuses. But the economic damage Apple has done to the tech industry will not be undone," said Telegram CEO.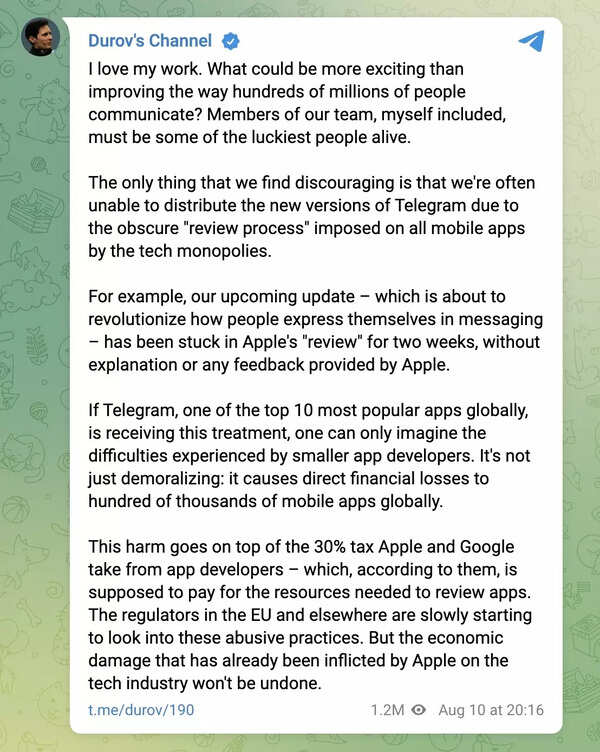 Image credit: Softpedia