News
Where to buy Dive Bar Miller High Life x Tipsy Scoop | FN Dish – Behind the scenes, Food Trends and Best Recipes: Food Network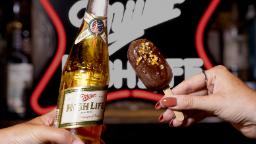 Many of us have mixed memories of dive bars. These spots can get a bit thrown together, and even stink at times, but they're super fun. These bars are often filled with history, (sometimes hazy) memories and lots of good times. We may have grown more experienced, but they will always stick together as one of the best times of our lives.
The dive bar isn't the only type of bar with a lot of history. Ice cream parlors have their own history, and some pretty special memories. Now, Miller High Life is trying to pay homage to both dive bar flavored ice creams.
In honor of the dive bars organization and the 100th anniversary of the ice cream parlor, Miller High Life has partnered with Tipsy Scoop to create Ice Cream Dive Bar. This ice cream is of course infused with High Life, but also a peanut swirl to reflect the peanut shells that are always found on the floors of those bars, a hint of tobacco smoke, as well as a hint of tobacco smoke. Caramel swirls, sprinkles with carbonated candies. and a piece of dark chocolate.
The best news is that you can have these ice cream bars delivered right to your doorstep. One 6 boxes of popsicles will be available for purchase starting August 15 at TipsyScoop.com, Goldbelly and in person at three Tipsy Scoop locations in New York City Barlors.
Sounds like a great way to bring the dive bar experience down to your couch, minus the grueling walk home. Work for us!