News
"We are far from the end of the war" after the call with Putin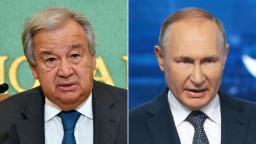 The Association of Tour Operators in Russia (ATOR) says it is feeling the impact of the European Commission's stricter visa processing conditions on Russian citizens, as nine European countries currently "no longer accepting documents from travelers".
Last Friday, the European Union (EU) made a decision suspending visa facilitation agreement with Russiamaking it more difficult for Russians to travel in Europe.
"Visa facilitation agreement with the Russian Federation has been suspended. This means that Russian citizens will receive a Schengen visa under the general conditions of the EU Visa Code," wrote ATOR on website Tuesday.
ATOR describes itself as the largest association of tour operators in Russia.
According to tour operators, the list of EU countries that have issued and continue to accept visa applications for travel includes Italy, Spain, Greece, France, Hungary and Cyprus. Notably, the visas issued are national visas – not Schengen visas, which allow tourists to visit other European countries.
"Latvia, Lithuania, Estonia, Poland, Czech Republic, Slovakia, Denmark, Belgium and the Netherlands no longer accept documents from travellers," it stated.
In response, the European Commission forwarded CNN to their visa instructions, which were posted Online last Friday. The guide outlines how to process applications for Russian citizens' short-term visas.
European Commissioner for Home Affairs Ylva Johansson said last Friday that "being a tourist in the EU is not a fundamental right".
"Member states are advised to thoroughly and carefully examine the visa applications of Russian citizens. Visas should be refused in places where the consulate has identified a security risk." she continued.
"The EU will remain open to those in need of protection, such as journalists, dissidents, human rights activists and those traveling for family reasons," Johansson said.
According to the instructions, consulates can "adjust their procedures" and are allowed to "take 45 days" to decide on a Russian tourist visa application, as opposed to "15 days under normal circumstances".
"Member states should limit the issuance of multiple-entry visas with long-term validity, as Russian citizens may not meet the conditions for entry into the EU in the long run, due to economic instability, measures restrictions and political developments in Russia", the new guidelines added.
The Beginning September The Czech Republic and Latvia have begun implementing measures to restrict travel by Russians, while Estonia has banned Russians with visas from entering the country.
CNN has reached out to the foreign ministries of the Netherlands, Lithuania, Poland, Slovakia, Denmark and Belgium, and they have not yet responded to a request for comment.