Lifestyle
The Butterfly Man: The Crime of 1934 Shocked Shreveport | ArkLaTex depth
SHREVEPORT, La. – It was a crime that stunned Shreveport and made nationwide headlines.
The year was 1934. Franklin Delano Roosevelt was President, the Great Depression was in full swing, and a bank robbery duo named Bonnie & Clyde dominated the headlines that year. But in Shreveport, a crime so shocking that it will soon create nationwide fascination and front page headlines of its own.
This case became known as the Butterfly Man. So called, because the killer was famous throughout town for creating tiny butterflies from any readily available material and selling them for nickel to whoever bought them.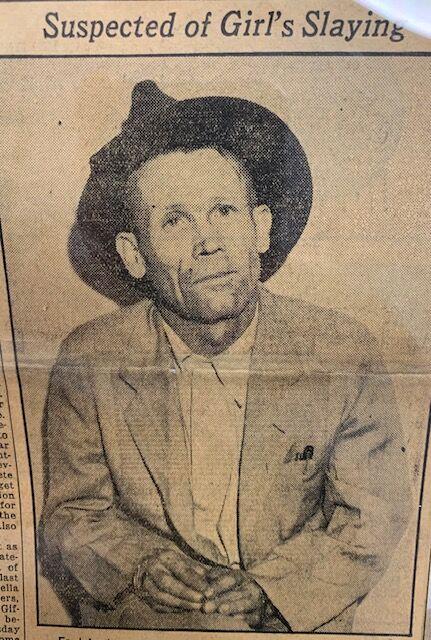 Leslie Peters, 91, who now lives in Keithville recalls. It was a murder that devastated his family, taking the life of his then 16-year-old aunt, Mae Griffin.
"She was a good girl, living with her mother," Peters recalls. "She was engaged to a guy in Arkansas. She wanted a dress and a pair of shoes for the wedding."
Mae Griffin and her mother, Maggie Peters, lived here on Lyba Street west of Jewella, along what is now Interstate 20.
DB Napier, also known by the alias Fred Lockhart, is a tramp from Georgia. He got into trouble allegedly participating in a car race in Alabama and hopping a freight train that ended in Shreveport.
It was during the Great Depression; Everyone did what they could to achieve. Napier made small toy butterflies and sold them.
On Thursday, April 12, 1934, Napier went to Mae Griffin's mother and said he needed to help his sick wife and was willing to pay her daughter $3. Mae's mother thought it was a good idea and allowed her daughter to buy a dress and some shoes for her upcoming wedding to Lee Looney at Board Camp, Ark.
And so, Mae ran away from home to follow Napier. She and the Butterflyman go for a walk.
They interrupted what was then Shreveport's Golf and Country Club. They ended up near what is now the intersection of Lakeshore Drive and Cross Lake Boulevard. At the time, it was described as a few hundred yards west of Jewella on Fetzer Avenue. Much of what is now Lakeshore Drive was Fetzer in 1934.
According to investigators, Napier led Mae Griffin into the woods at that location, right from the shores of Cross Lake.
"He dragged her into the woods and started attacking her, and she fought. She was clutching the knife, the palm of her hand with a ribbon," recalls Peters. "He brutally raped her and she fought with him the whole time. And when he made it through, he cut her throat."
Napier then covered the girl with wood chips and attempted to cremate the body.
Three days later, on Sunday, some men were fishing in the area. They were digging for worms and found her body. They called the police.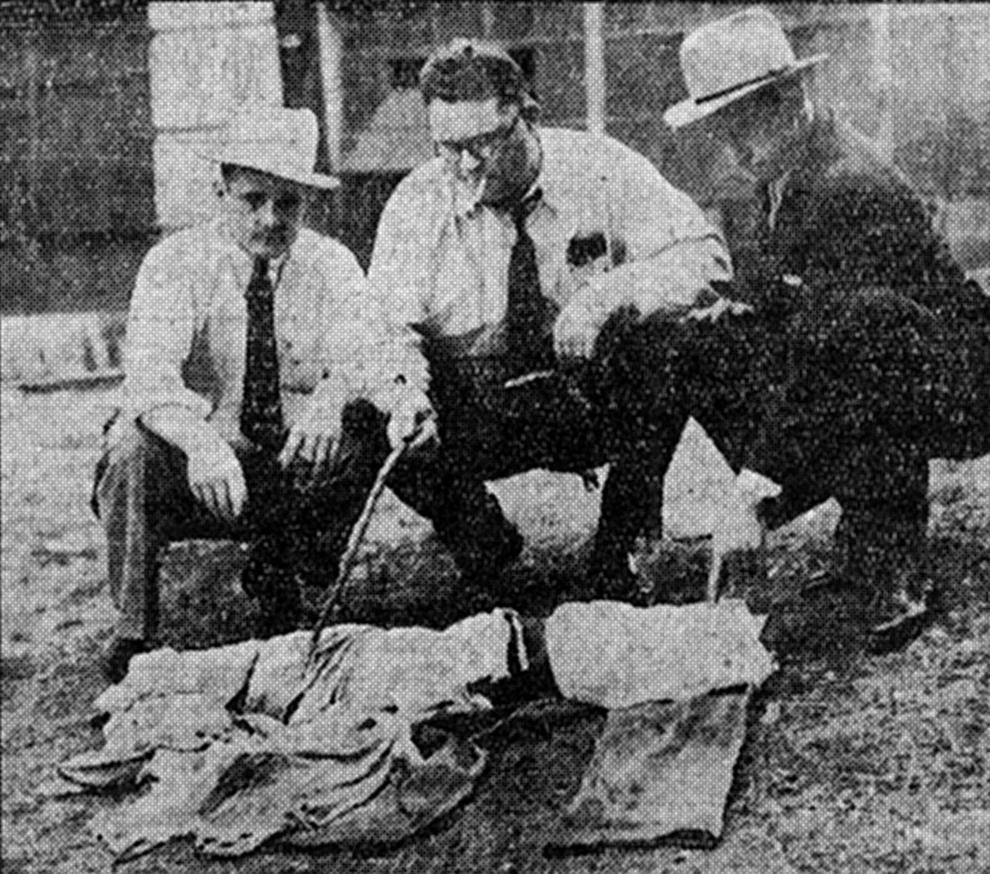 Dr. Willis Butler was the coroner at the time. He recalled this case in a 1981 interview.
Butler said: "My autopsy revealed all the gruesome details of his brutal attack on her. "How he strangled her to death, mutilated her body and raped her."
Napier left town. But the law caught up with him near Monroe. By the time he returned to Shreveport, the story was front page not only here but across the country.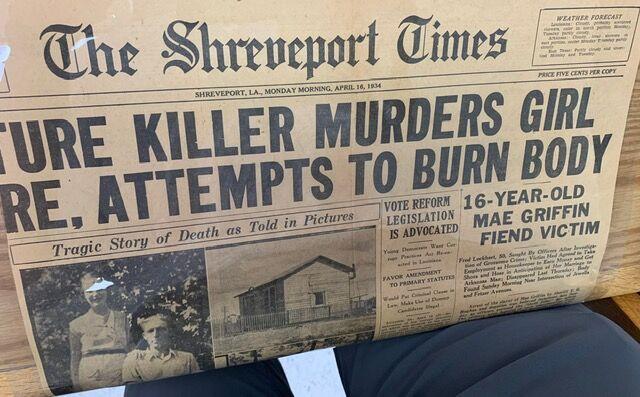 "This has been the top story in the United States for almost a week," said Gary Joiner, head of history at LSUS.
A few weeks later, the search and death of Bonnie and Clyde would become the top story in the nation, also outside of Louisiana.
Napier was held in a cell at Caddo Court. The public became extremely excited as they gathered on the court lawn and ran across the court. It took reinforcements from Bossier, then the Louisiana National Guard with tear gas to push back the crowds.
Justice was swift in those days. Eight days after Mae Griffin's body was found, Napier was put on trial at the Caddo courthouse on Monday, April 23, 1934.
The trial lasted one day. The jury considered only five minutes before concluding Napier guilty. Prosecutors want him hanged that Friday.
Thirty days later is the norm in Louisiana. But the governor refused his request for a speedy sentencing, and Napier was scheduled to be hanged on May 18.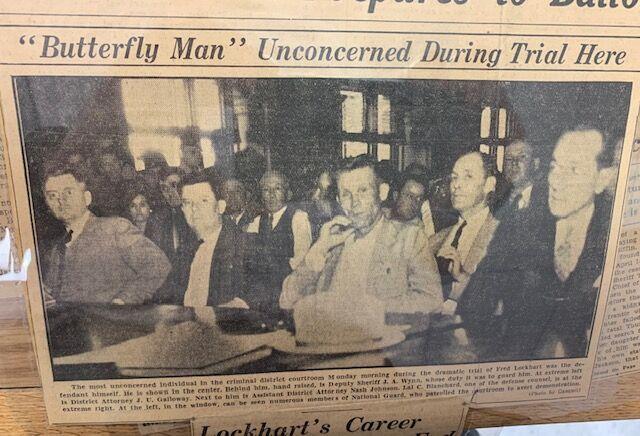 "On the day of the execution, my whole family was there. My grandmother Peters (the victim's mother), my dad, all the aunts and uncles," Peters said.
Lee Looney, Mae Griffin's fiancée, also attended the trial.
Leslie Peters, four, had to wait outside the execution room inside the courthouse. He remembered Napier being led into the room.
"They started up the stairs to the execution floor with a trapdoor in the floor," Peters recounted. "Halfway up the stairs, he stopped and looked back at his family and said, 'I'll see her in heaven.'
And then the executioner put a noose around Napier's neck.
"And when the time came, they pulled the trap door lever," Peters recalls. "He hit the end of that rope and kicked with his foot."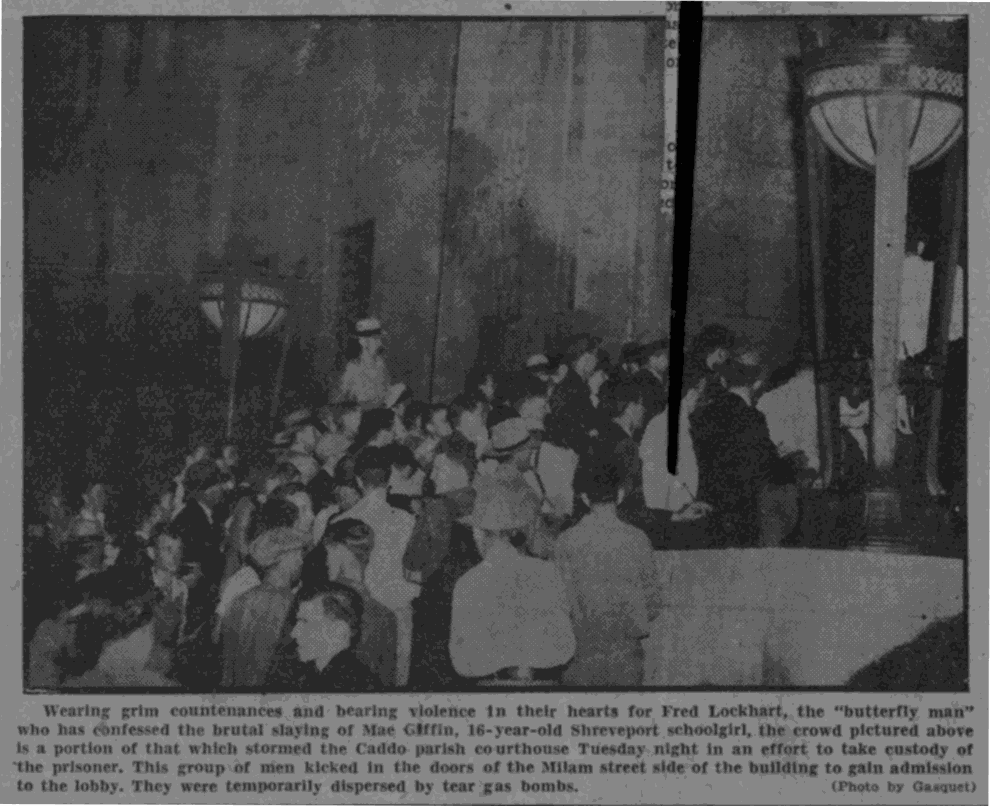 Peters said that Napier kicked and struggled for more than 10 minutes before becoming unstoppable.
The Butterfly Man is buried at Greenwood Cemetery in Shreveport in an unmarked grave.
"Both the city and the parish agree that he should not be under a monument. They don't want his grave to become a tourist attraction," said Joiner.
The Butterfly Man burial ended one of the most brutal and notorious murder investigations in Shreveport history. But the pain and suffering for the Mae Griffin family has lasted for generations.
—–
Editor's Note: Special thanks to the LSUS Archives and Special Collections and Fermand Garlington for their assistance with newspaper clips, photographs, and other historical items relevant to the story. this.