News
PMQs: Boris Johnson accused by Sir Keir Starmer of 'blaming everyone else' in furious Commons row | Politics News
Sir Keir Starmer accused Boris Johnson of "blaming everyone else" for the shop during an angry exchange in the Commons.
The Labor leader said the prime minister had chosen to "slander nice people" in private but lacked the "backbone to repeat it in public".
He claimed that Mr Johnson showed a different attitude "once the cameras went off" during the heated exchanges at the Prime Minister's Question.
Sir Keir has alleged he has "turned to blame others" for his woes – including the Archbishop of Canterbury – following his sideline apology.
Political center: Boris Johnson's beer row with Church
He called it "an oral apology on camera, a malicious attack on people who tell the truth as soon as the camera is off. Slander decent people in private rooms, allowing slander to spread. transmitted without having to repeat it in public."
Tory MP in PM's 'panme' meeting

His comments focused on reports that Mr Johnson had criticized the archbishop, Justin Welby, at a closed-door meeting with Tory opponents hours after his appearance in the Commons.
Sir Keir also pointed out that the prime minister's rotary doctor Allegra Stratton, COVID adviser Professor Neil Ferguson and health secretary Matt Hancock have all resigned over their actions during the pandemic.
He asked: "Why does the prime minister think that every action of others has consequences except his own?"
Mr Johnson responded by accusing Sir Keir of being "in some sort of Doctor Who time warp" and describing him as "Corbynista in a smart Islington suit".
Sir Keir said the prime minister had attacked the BBC's coverage of the Ukraine invasion – but Mr Johnson said the statement showed that the Labor leader had "lost his little mind".
It is the second day of pressure from MPs on Mr Johnson over partisanship, after he apologized to the Commons on Tuesday following last week's fine for breaching the lockdown.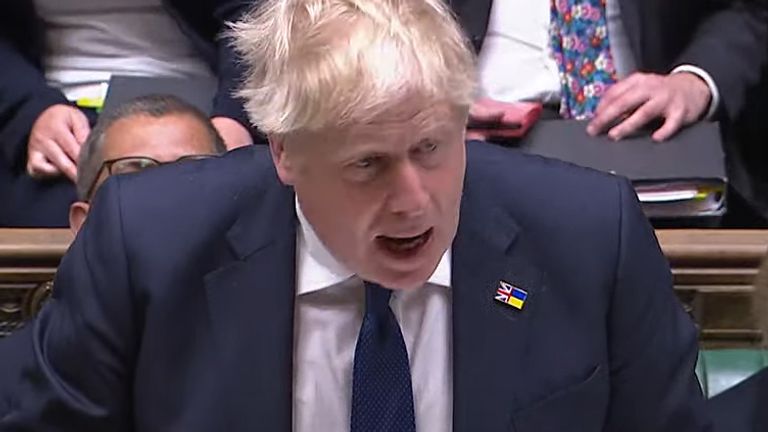 Sir Keir said: "Yesterday's apology lasted as long as the prime minister deems necessary to cut the news.
"But once the cameras went off, the prime minister went to the protesters and he went back to blaming everyone else.
"He even said that the Archbishop of Canterbury was not critical enough of Putin.
"In fact, the archbishop called Putin's war an act of evil."
Mr Johnson faced fresh protests from his resignation from other opposition MPs including the SNP's Richard Thomson, who was asked to retract his depiction of Mr Johnson as a "Pinocchio prime minister" to the public. want to see "pack your bags and go".
Plaid Cymru's Westminster leader, Liz Saville Roberts, asked Mr Johnson if he would support legislation banning "political lying".
He replied, "It is well known that the rules of this House require us to tell the truth in this House and that is what we strive to do."
Subscribe to the daily podcast onApple Podcasts, Google Podcasts, Spotify,Speaker
Sky's deputy political editor Sam Coates said the prime minister was trying to move from partisan mode but Sir Keir was "clearly under the prime minister's skin".
"Keir Starmer has been in better form and Boris Johnson is arguably a bit more upset than I can remember for a while," he said.
"Keir Starmer did what he doesn't always do, which is to ask quite specific questions that were clearly on the prime minister's radar."
On Thursday, the prime minister will face a vote on a motion drawn up by opposition parties calling on the parliamentary prerogative committee to investigate whether he misled the House of Commons with his claims. initially claimed that no rules would be broken in the process of partying – although Mr Johnson himself would be in India.
The wording of the petition – which will need to garner the support of a number of Tory MPs to be successful – dictates that the investigation cannot begin until the police's conclusion on the case.