Lifestyle
Opalhouse Designed with Jungalow Fall Collection is Here!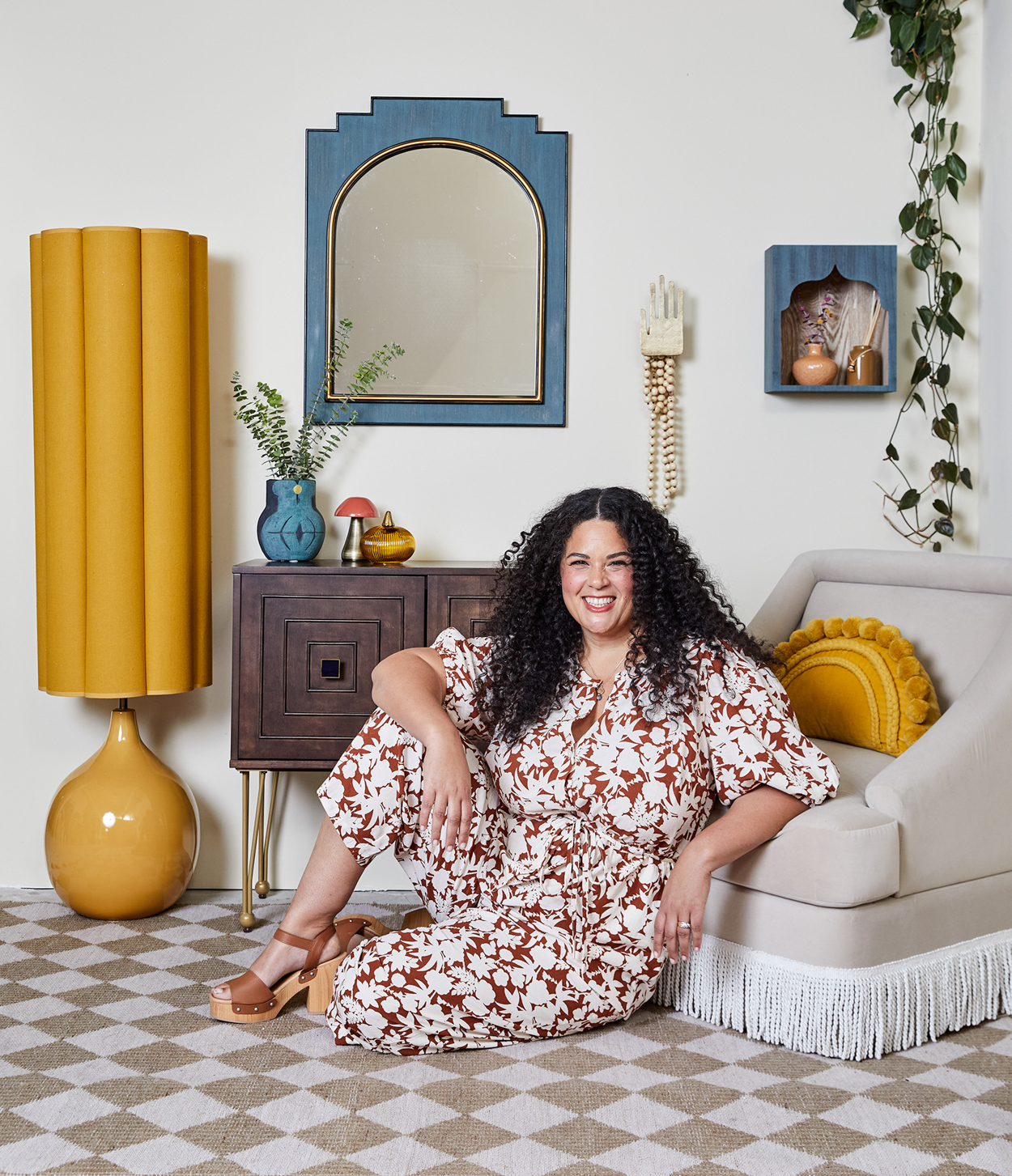 I am very excited for the fall. I can't wait to decorate our new home for the season and our latest Opalhouse designed with Jungalow Collection at Target is dropping just in time! This year for our fall collection, I'm really leaning towards cool silhouettes – there are lots of fun and interesting shapes. You'll find scalloped and zigzag edges flanked by vibrant blooms and bold checks, full lotta velvet, full lotta fringe, and lots of fun ways to layer in layers. Seasonal icons and natural motifs.
As always, the entire palette for the collection is designed to mix and match, so you can cover the pillows with your heart's content and the colors go well together. The smiling pumpkin pillow pull my heartbeat (it was inspired by a realistic pumpkins i drew a few years ago!) and it was only $25!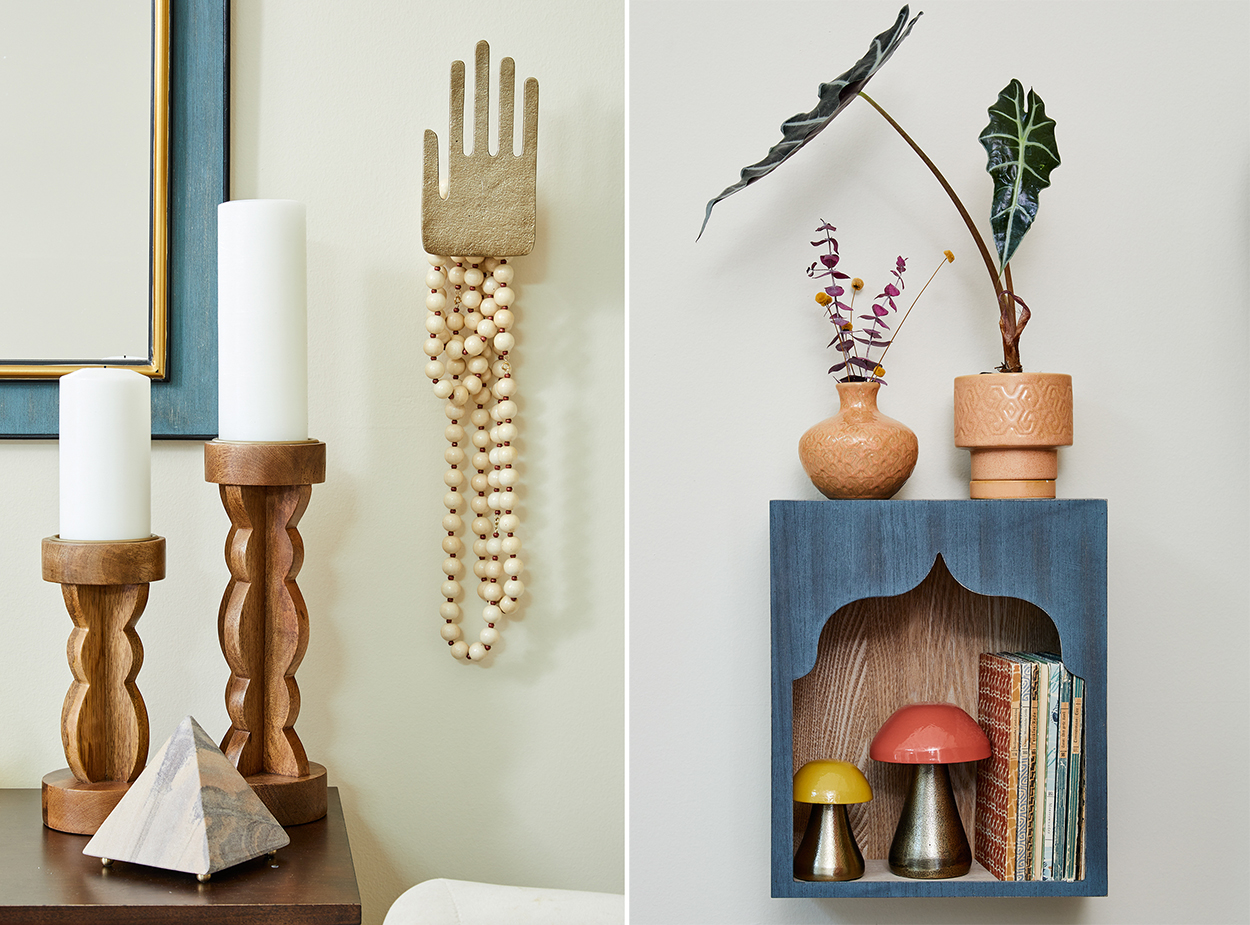 I really wanted to include functional wall accents in this collection – they're especially handy for small spaces – perfect for entryways, bedsides and bathroom storage. The hand hook and cubby wall can be used to store jewelry or other trinkets, and I also love the idea of ​​using multiple sets to install an entire wall.
Drumroll please…. I gasped when we received the sample of this push chair! She just put a big smile on my face! Sometimes you just need a fun piece of furniture to liven up a corner of a room, and this floral print gives me an autumnal feel – and she's really comfortable, too.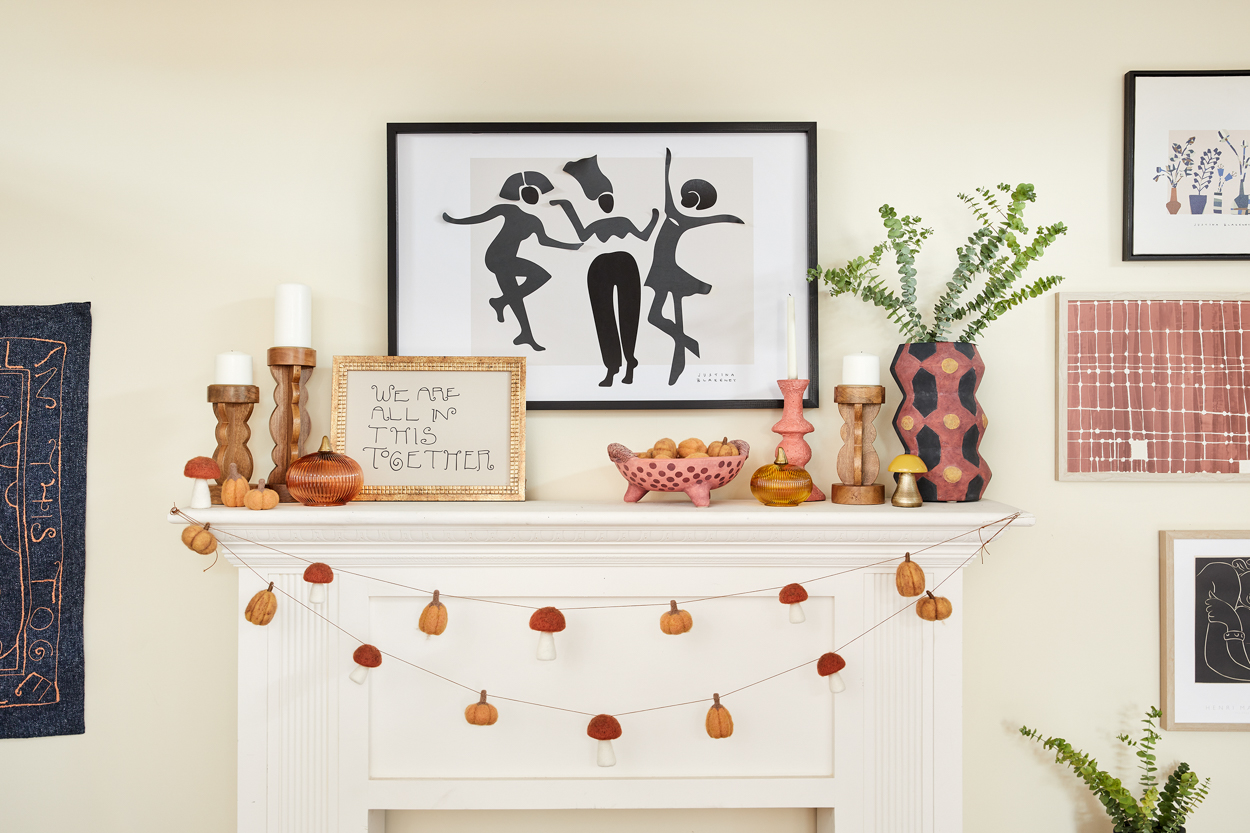 I wanted to infuse this collection with feelings of wonder, lightness and intimacy – and so you'll notice symbols and messages that can help bring those feelings into your home – from small mushrooms made of felt or metal (magic!) with print of dancing sisters (levity!) and Print "We're All In Here" and carpet (together!) we hope to help you bring good vibes home this fall. I want to wrap my whole house in that pumpkin/mushroom wreath!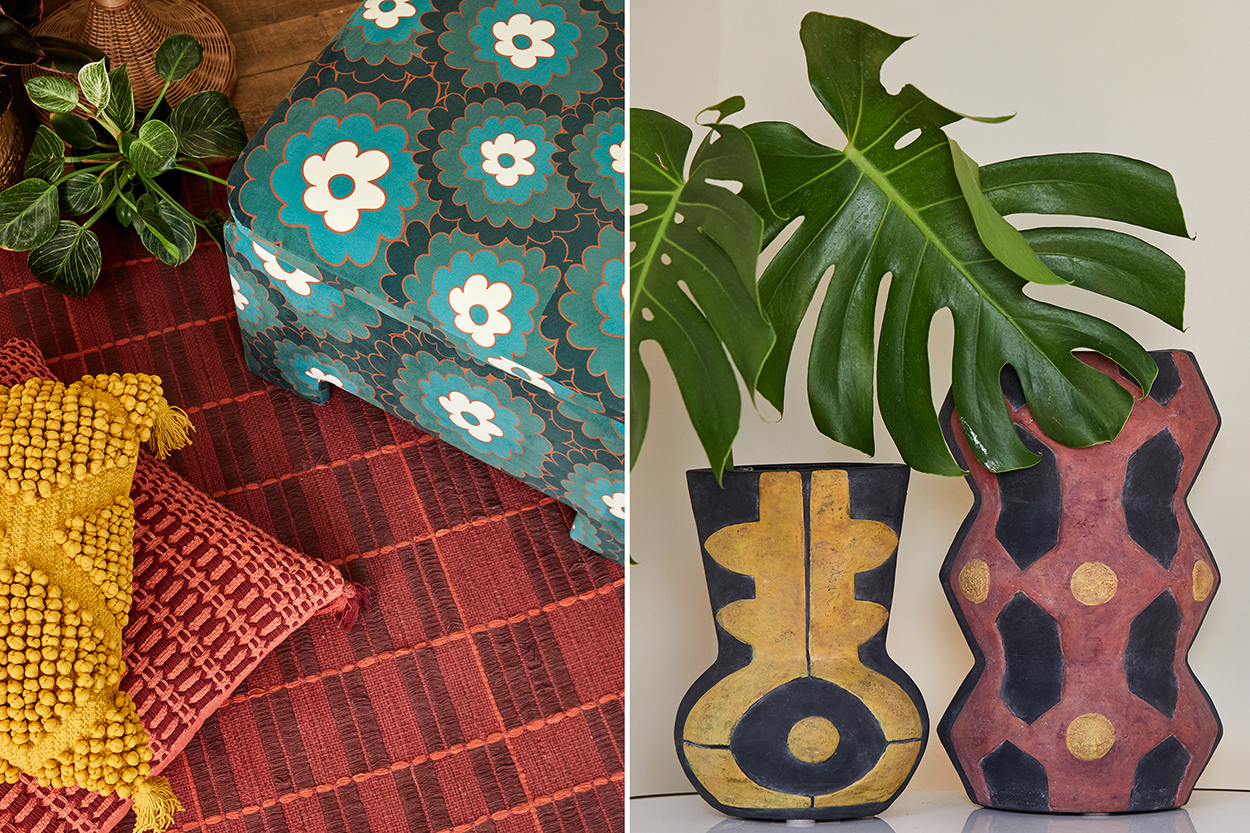 Textures, colors, shapes! Are you ready? These pieces are giving it all of. These vases make such a statement and can be displayed all together as a small collection (there are three of them – check out the yellow one). here the blue one here) but also makes a statement entirely on its own and feels both amusing and uplifting. My favorite mix!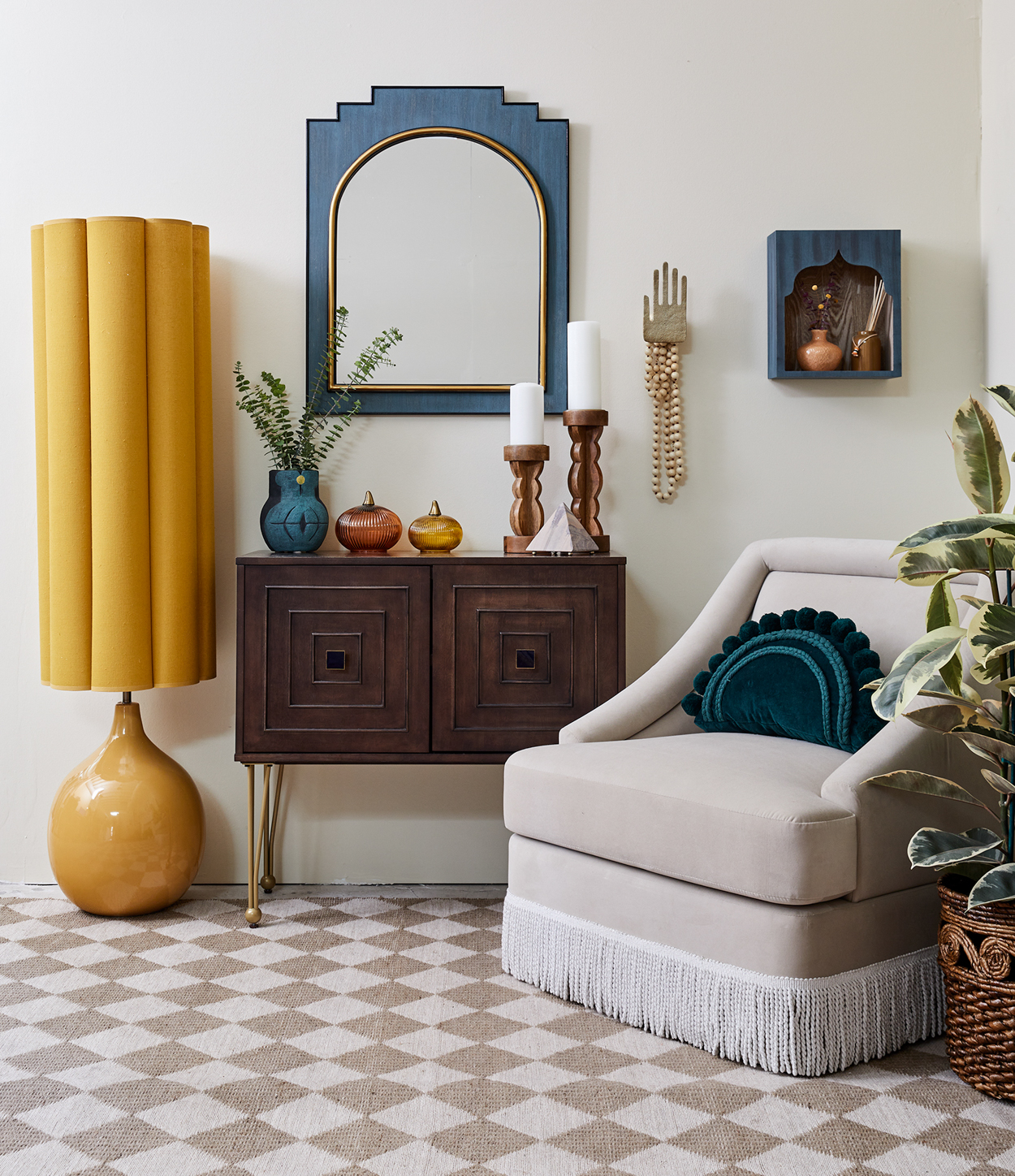 There's a lot to love about here, right? The fringe chair! (Gold light coming soon) Sculpted candlestick and dome mirror. A little boho, a little retro, a little art deco. I hope that the eclectic mix of influences and inspirations helps to infuse some personality into the home.
And now… let's go to the bedroom! It's easy to transform your bedroom for fall by swapping out fabrics. As we move from light and airy to cozy and cuddly, we really focus on feel for the bedroom this fall.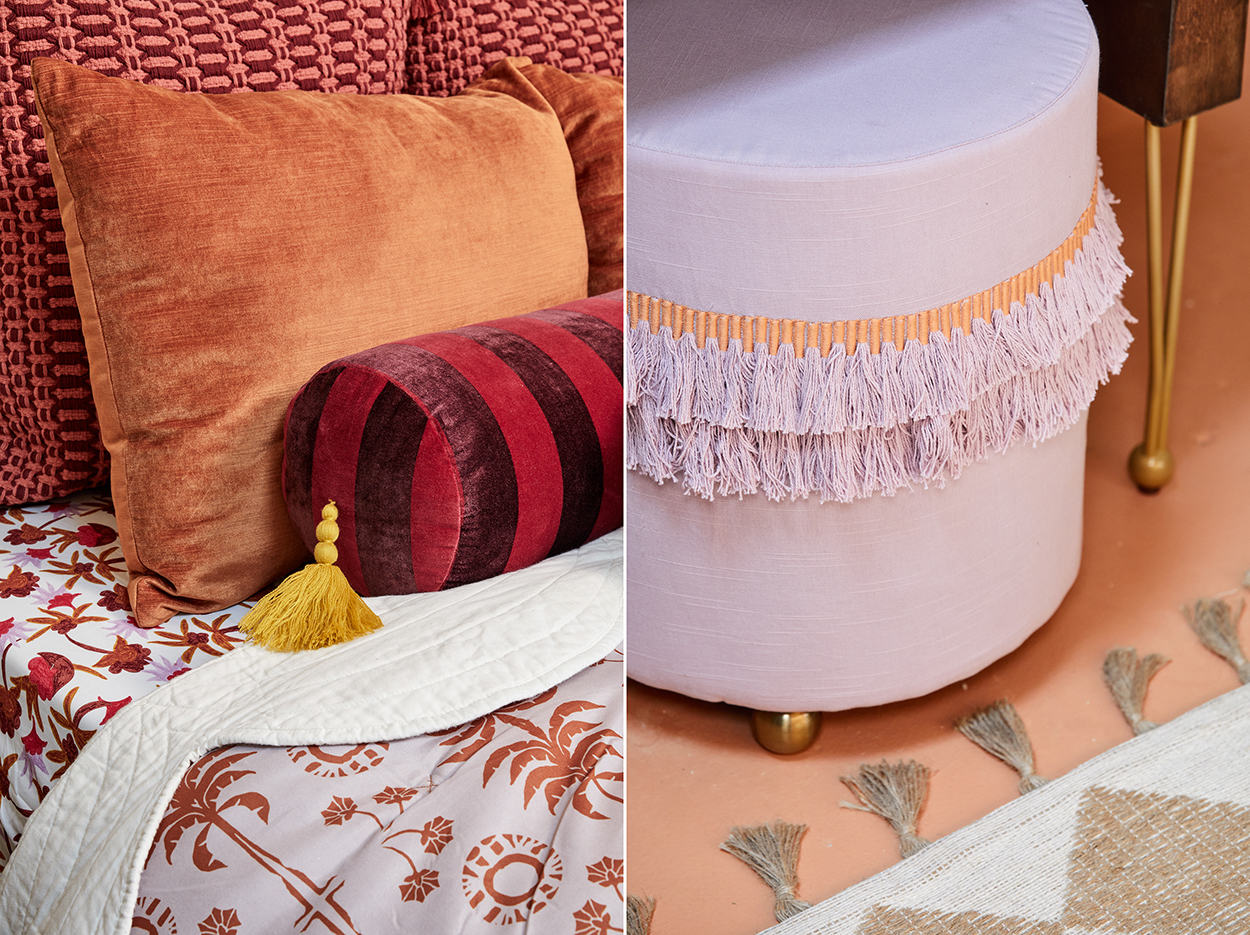 A little velvet, a little contour – mix of botanical and graphic prints – you know how we do!! Also, you will notice a lot of lavender moments! I love the way it plays with fall orange – and like its flower of the same name, I find lavender very relaxing – the perfect accent color for the bedroom.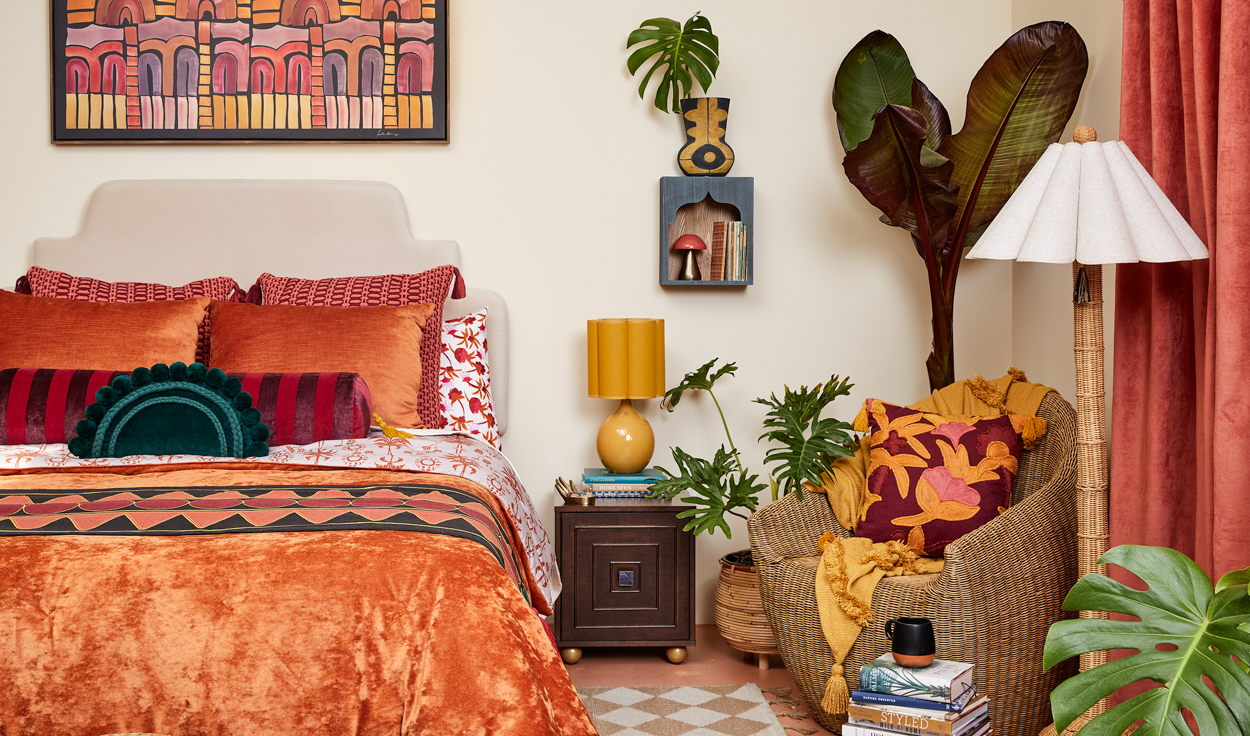 This collection also features some of my paintings. The canvas painting "Many Suns" above the bed is a print of an abstract gouache of the rising sun.
It's all in the details!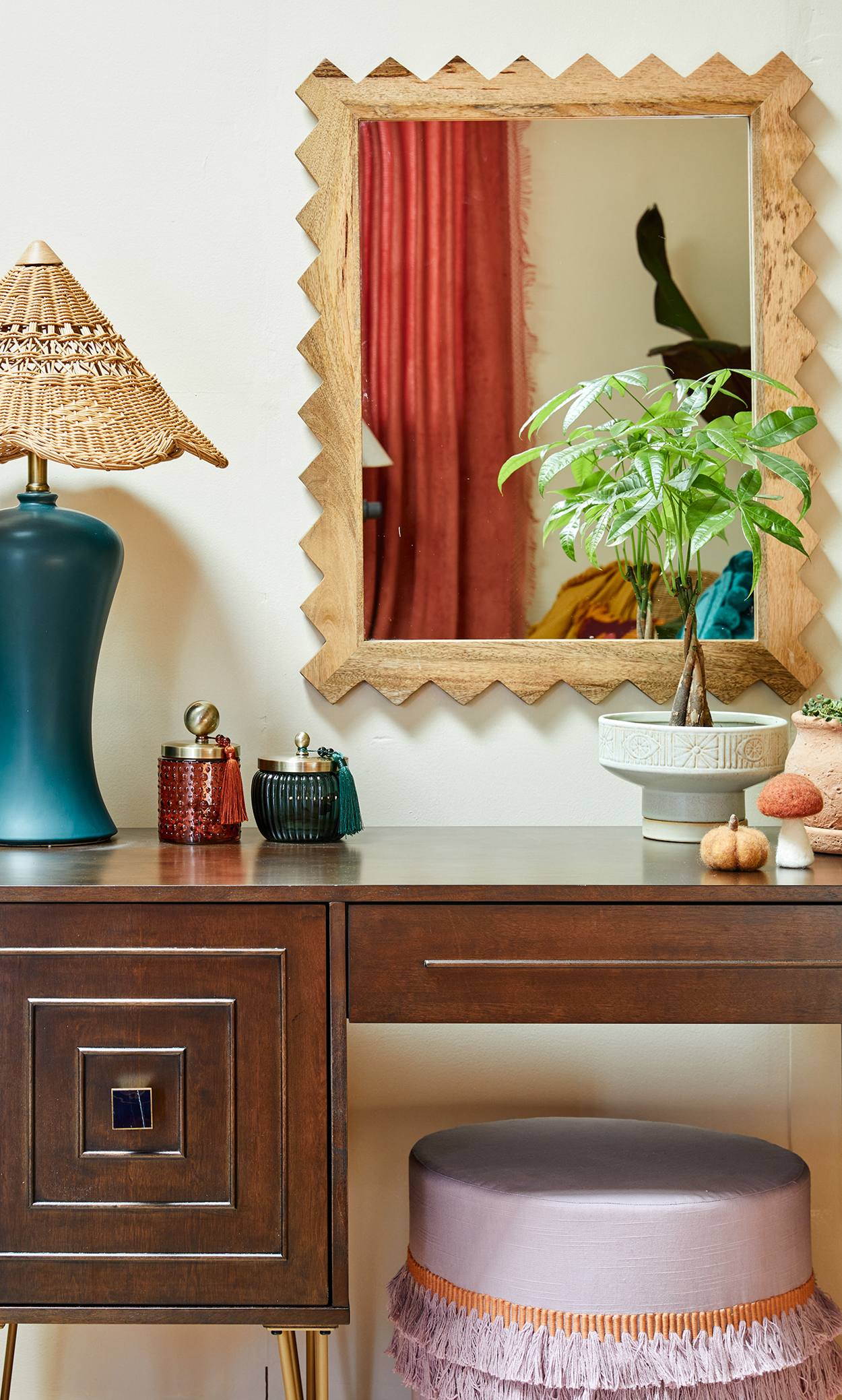 Don't forget to check out the new furniture pieces. This table is one of my favorite pieces in the new collection. Perfect for small spaces with ample storage, it's modern yet unique.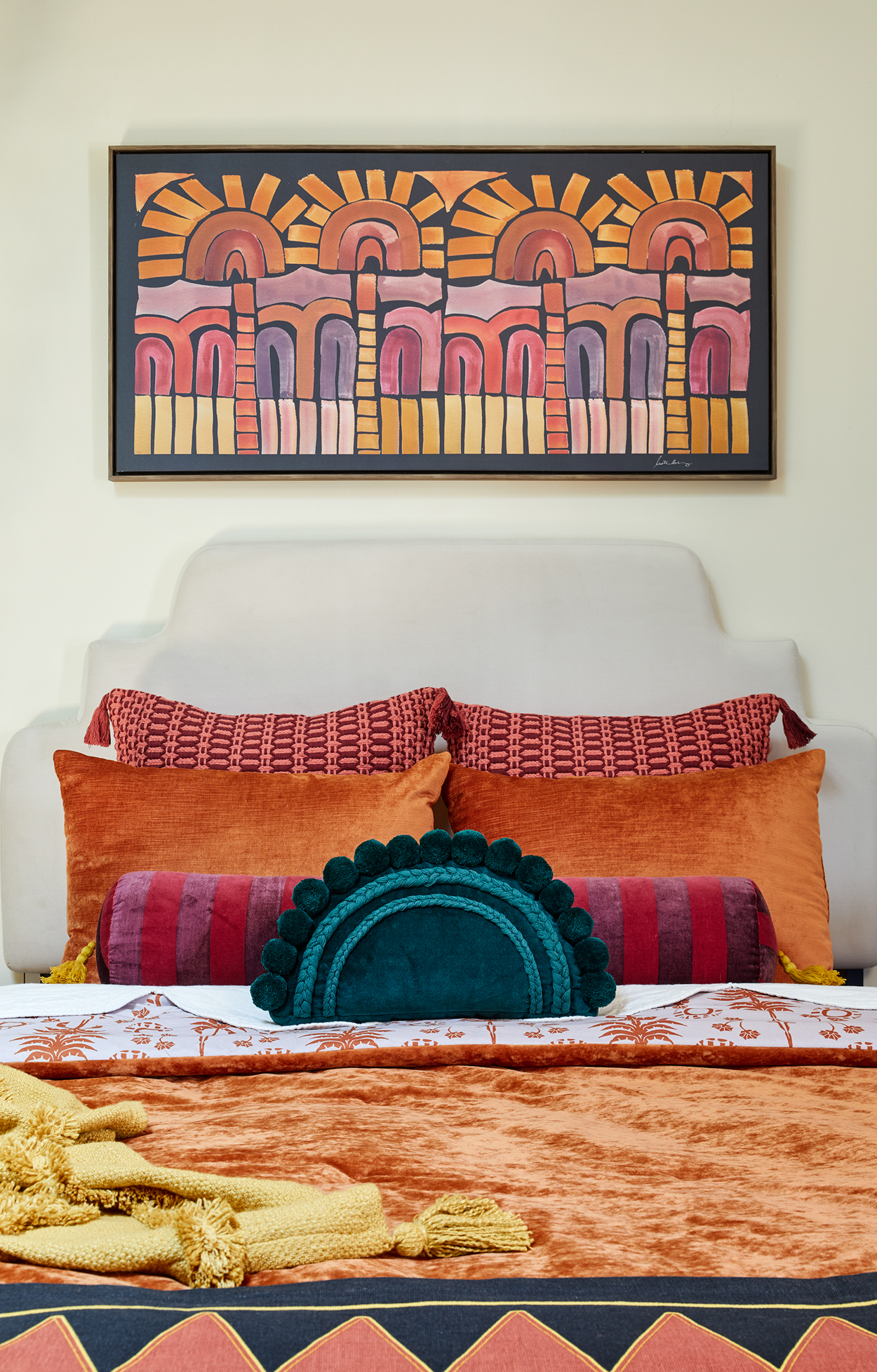 Test the whole collection only at Target! Hope you have as much fun decorating this fall as I designed this collection!


Taken by Jenna Peffley