News
In a world of new challenges, 'we need to build on what unites us', Assembly President tells UN Member States |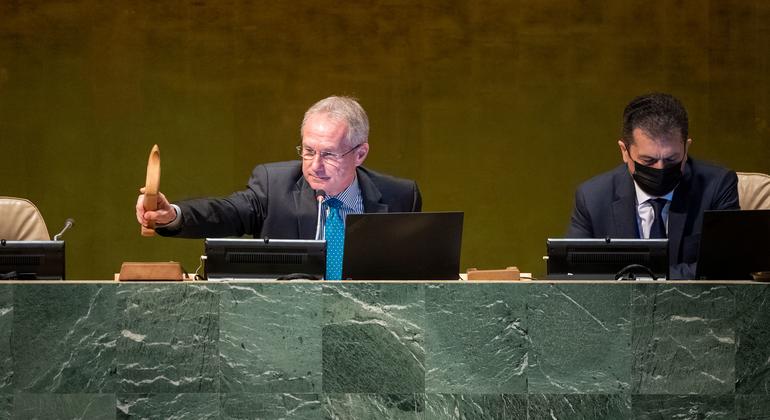 "This year, we heard from 190 speakers, including 76 Heads of State, 50 Heads of Government, 4 Vice Presidents, 5 Deputy Prime Ministers, 48 ​​Ministers and 7 Heads of Delegation," said Plenum Chairperson Csaba Kőrösi when he summed up the first General Debate since the beginning COVID-19 pandemic.
While only 23 speakers were women, he echoed the words of former New Zealand Prime Minister Helen Clark, who moderated this year's first General Assembly. Platform of female leaderswhen saying they "packed a punch".
'New Era' of Humanity
Unable to summarize 190 statements into a few phrases, Mr. Kőrösi focus on some common themesbegan a growing awareness that "humanity has entered a new era".
Faced with complex challenges and multi-layered crises, he said significant transformations are underway, indicating that the "fundamental conditions" of global cooperation have changed, leaving " a new challenging world, changing priorities, changing roles and changing ways."
"New pages of history are being written, with new divisions and new alliances, new grievances and new successes about them," said the President of the Council.
Highlights about Ukraine
Next, he said the Hall resounded in the sense that the war in Ukraine should end.
He reiterated Member States' concerns about shortages, inflation, refugees, nuclear safety and the "risk of disinformation and propaganda".
"However, despite being the largest and most intense war, the war in Ukraine is one of nearly 30 armed conflicts worldwide," said the senior UN official, "and not no conflict is ameliorated."
Climate change
A third theme resonates throughout speeches highlighting the dangers of climate change.
Discussions followed about countries experiencing droughts and floods simultaneously; unsustainable patterns of production and consumption; and plastic pollution fills the oceans and kills fish, "even as rising waves engulf the shores," he continued.
However, despite calls for global net zero and climate justice, some still seem unconvinced that "the growth of our economy can be balanced with curbing development." waste and conserve biodiversity," said Kőrösi.
Human rights
Calls were also heard to improve human rights and respond to the needs of those most vulnerable to exploitation.
"There is a price to pay to speak out about human rights abuses, but the right to freedom of speech is strongly supported," he admitted.
The President of the Council reiterated speeches affirming diversity as "a strength, not a responsibility" and drew attention to the high-profile event on minorities marking 30 years since a historic Declaration about the rights of persons belonging to national or ethnic minorities, religions and languages.
Revival and reform
He also noted support for revitalizing the General Assembly to better respond to intertwined global crises and reform. Security Council to reflect the reality of this century.
The senior UN official then pointed out the goal is a post-COVID peaceful world with enhanced trust, where we can work together to mitigate and adapt to climate change. Queen. He reminded that his vision statement for "solutions through solidarity, sustainability and science" is a step in that direction.
"We need to build on what unites us," he said, and presented "the most acute challenges" in terms of crisis management and transformation.
"To deepen solidarity, we must build trust."
Next step
With the aim of strengthening widely accepted and proprietary actions, the Chair of the Council plans to launch a series of consultations, including with the scientific community.
He said that he is also preparing for United Nations Water Conferencethe Sendai midterm review and SDG . Summit.
Mr. Kőrösi said: "When I asked you a week ago, I said that everything… goes wrong when we don't seize the opportunity in front of us. "Our opportunity is here and now. Let us act."
Before closing, he thanked everyone who made Senior Week a success.