Sports
I'm responsible for not having a mental conditioning coach sooner: Graham Reid | Hockey news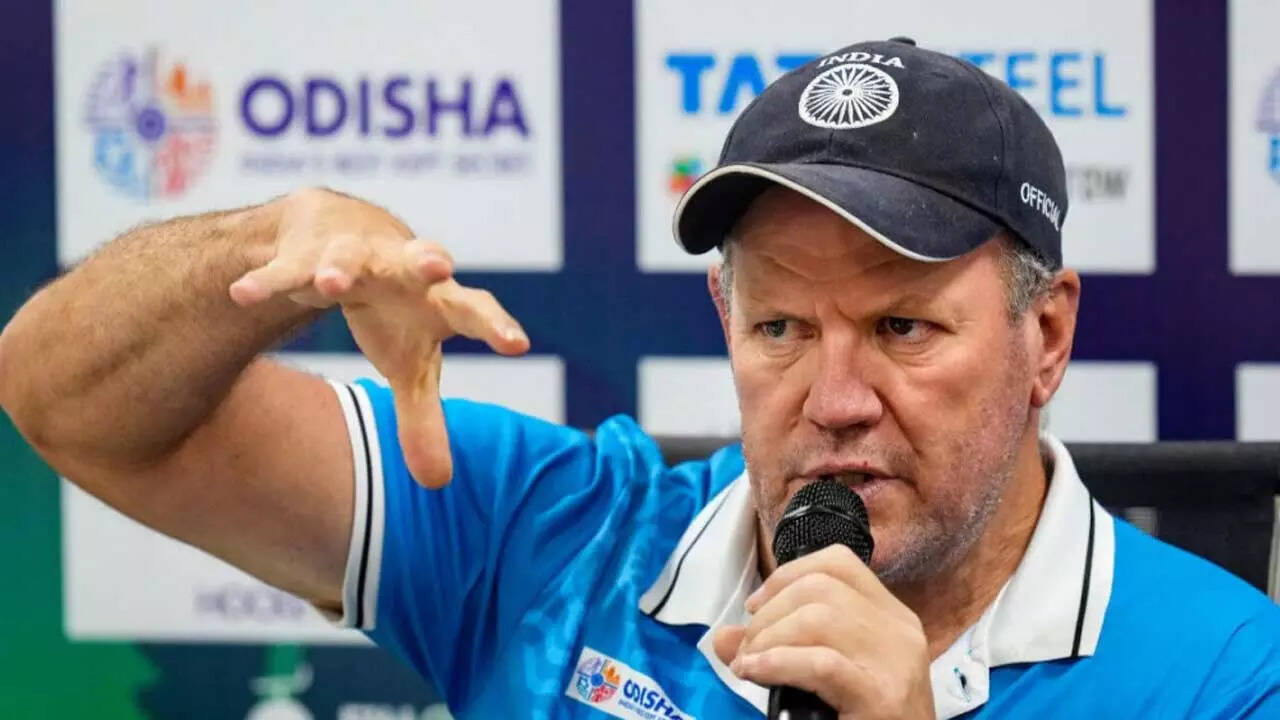 ROURKELA: Head Coach Graham Reid accepted responsibility for not motivating a coach to mentally condition India ahead of the FIH Men's World Cup for which the home team was eliminated early.
After India beat Asian Games champions Japan 8-0 in an unimportant classification match here on Thursday, Reid said that the World Cup at home has brought extra pressure on the team that "sometimes" very difficult to handle".
He said that when he came to power in 2019, he thought he would be able to manage the mental side of the players.
"Watching this World Cup and being in the World Cup at home, it brings more pressure. Sometimes it's hard to handle. So that's my thought process," Reid said during the meeting. post-match report.
"That (a request from a mental conditioning coach) has been brought up (for discussion) before but I didn't really think it was necessary at the time. I think I had enough experience. experience to be able to convey what we've been talking about."
After the defeat to New Zealand in a friendly in Bhubaneswar last week, Reid said a mental conditioning coach was needed to help the team cope with the pressure.
"We had COVID-19 and it was hard to get over all that happened. Then the Asian Games were coming (will be in 2022) and then not coming (postponed). again), it's always the same as when we started the process (with a mental conditioning coach) and then it didn't happen.
"I'm responsible for that (because there's no mental conditioning coach)."
Reid also mentioned that teams like Australia and the Netherlands have a mental conditioning coach they call a 'culture coach'. He said the mental conditioning coach would have to be Indian.
Team Australia has had the services of a culture coach since 2017.
"We have access to sports psychologists in SAI. But it's a bit different when you operate in your team environment. They (culture coaches) operate on your team.
"Trusting in your team, in the coaching team is an important thing. I also need to feel that we can trust that person and we need it to be the right person. I think it needs to be someone. India."
Reid said he feels the team is making progress in terms of mental toughness, such as scoring last minute.
The 58-year-old former player and Australia national team coach also supported the national federation's revival effort indian hockey League (HIL), has been defunct since 2017.
"Is the club culture here in India? I'm not sure. It's very difficult to describe the club culture from scratch, that's the problem.
"We needed something, we needed a competition close to international competitions," he said when asked if India needed to start the enduring club culture that is popular in Australia and other countries. regions of Europe to play high quality games on a more consistent basis or not.
"We've had HIL before, which is really good. Having HIL would make things a little easier, although they have a financial element behind that. But yeah, everyone loves watching it and maybe it needs to be redesigned from the ground up. No one in the world hockey who doesn't want to see it (HIL) happen."
Recently, Hockey India president Dilip Tirkey told PTI that they hope to restart HIL later this year.
Reid said the match against Japan is important as India could play them in the Asian Games scheduled to take place this year.
"The Asian Games will be at the end of the year and we will meet Japan again at that time, so it's important to perform well but also for our pride."
"I have a lot of respect for the Asian Games, how difficult it is. That's what I think is a very important match for Japan."
Captain Harmanpreet Singhwho struggled to score from corners during the game, also said it was sometimes difficult to deal with the pressure in front of a large home crowd.
"It's a bit difficult for less experienced players to play in front of a large crowd. Sometimes it can also happen to experienced players. So it's different (playing in front of a crowd). big and no or less crowd)," he said when asked if the pressure would ease during the Tokyo Olympics when it is played without any spectators due to the COVID-19 pandemic- 19.
"But if you focus on your game, you can see this (the presence of the crowd) in a positive light. It's a good lesson for us. If we play in the atmosphere, it's a good lesson. like this in the future, overseas or in the big leagues, we'll know how mentally prepared we are and stay focused."
Asked how the team was dealing with the situation that arose due to their early elimination from the World Cup at home, Reid said: "I told the boys that we have 24 hours to get through (after the game against New Zealand) before starting to focus on the tournament Japan game, to be honest, it was a tough three days.
"Everyone has mixed feelings – frustration, disappointment and emotion – that we let everyone down. What I'm proud of is that we managed to focus on two matches (classification) ."
India face South Africa here on Saturday in a 9-12 tie.