News
'I will never stop telling my story': Confronting victim-blaming for sexual assault  |
"A blue dress, black tights and boots. That's what I'm wearing," said Jessica Long, a sexual violence survivor who has campaigned for survivors' rights for the past six years. "That's what I was wearing the night I was drugged. I was raped. And I was left alone to die."
This and other insulting questions are constantly being asked of traumatized victims around the world – placing responsibility on their shoulders for the crimes committed against them.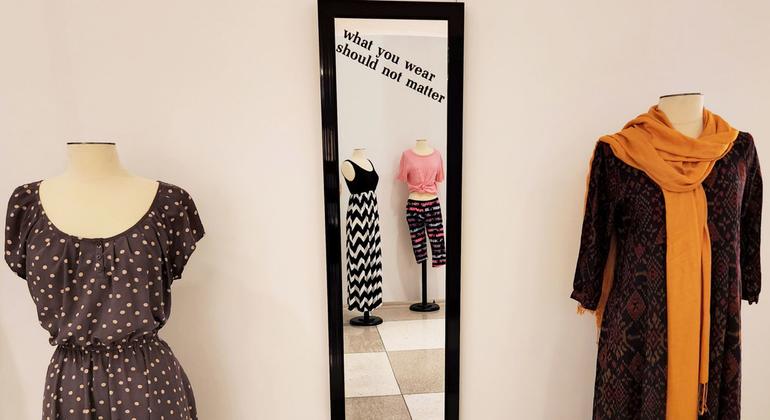 United Nations News / Elizabeth Scaffidi
To highlight the victim-blaming that underlies questions of this kind, American civil rights organization Rise has partnered with United Nations Spotlight Initiative to stage one exhibitionion at United Nations Headquarters in New York, which confirms the prevalence of sexual violence across all cultures and emphasizes that what a victim is wearing has nothing to do with what is being done. investigate heinous crimes.
Seeking justice
Sexual violence is a pervasive problem that needs more international recognition.
According to the World Health Organization (WHO), 35% of women globally, or more than a third of the world's population, have survived sexual violence.
This is equivalent to the combined populations of North America and Europe. Rape is an epidemic.
Clothing is irrelevant, it is never an invitation to violence and does not cause attacks. Vandals do.
"It doesn't matter what I'm wearing," said Samantha McCoy, a lawyer and activist from Texas.
She stressed that her geographic location shouldn't determine "whether I get appropriate care," reminding that consent cannot be given if a person is "unresponsive."
Since 2018, through her tireless advocacy work, Samantha has successfully advocated for new legislation on this issue, in Indiana and Texas. And she continues to seek legal reform, on behalf of all survivors.
Switch story
In the fashion world, the question "what did you wear?" can empower, celebrate creativity, and mark influence. But for survivors of sexual violence, it becomes a ritual blame tactic.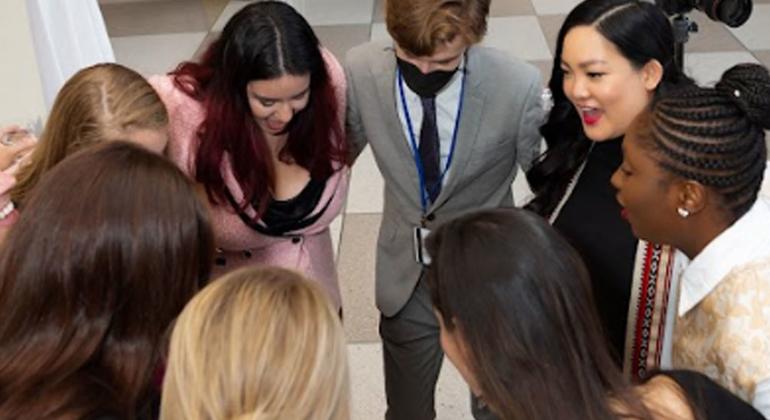 Spotlight Initiative
During the launch, Deputy Secretary General Amina J. Mohammed Was observed that "by asking questions" What did you wear??, this exhibition overturns the narrative of humiliation and blame".
"They reflect the diversity of people experiencing violence from every region of the world, including a two-year-old…[and] demonstrates more clearly than any legal argument can, that women and girls are attacked no matter what they are wearing," she said.
General Assembly President Abdulla Shahid said the exhibition "highlights the fact that the threat of rape lurks in the lives of all women, no matter where they are in their lives… their profession… , [or] their clothing choices".
"This exhibition should be a catalyst to foster important conversations about our collective responsibility to end violence against women and girls."
Stage setting
Representing each of the five United Nations Regional Groups, mannequins wear what women wear when they are sexually assaulted – 103 people in total, representing 1.3 billion survivors of violence. sex drive globally.
They are worn by women and girls to go about their daily lives – until they are attacked. "No one should be assaulted based on their choice of clothing. No one was abused. Dots".
No one was abused. Dots – UN Deputy Chief of Staff
Survivor Amanda Nguyen, CEO and Founder of Rise, emphasizes that "what we were wearing at the time of the attack was not an invitation to violence…not causing the attack…[and] irrelevant".
"By boldly answering questions and showing the world what we're wearing, we see an opportunity to open our minds and change attitudes about what sexual assault looks like," she explains. any.
Change your mind
The project highlights the bravery and resilience of survivors. And displays inside United Nations Headquarters of the mundane and visual reality of sexual assault, adding a layer of powerful international symbolism.
Survivor Kadijatu Grace describes herself as a "lucky person" who can speak for those who cannot, "like young Khadija, my name, who was raped and killed two years ago".
She recounted that when civil war broke out in Sierra Leone, insurgents kidnapped and raped the girls. Then, at the age of 13, the teenager's mother bought her a boat ticket and, in desperation, entrusted Kadijatu's escape to a stranger.
"He took me to a place with a motive so no one would hear, strangled me, put his hands behind my back, stuffed his shirt in my mouth, warned him he would throw me if I spoke out and threatened to come back and kill me. mother," she recounted.
It took a long time, but Kadijatu was finally able to admit that she was raped through no fault of her own.
"You thought you broke me, but you gave me a foundation," she said triumphantly. Now, "I will never stop telling my story".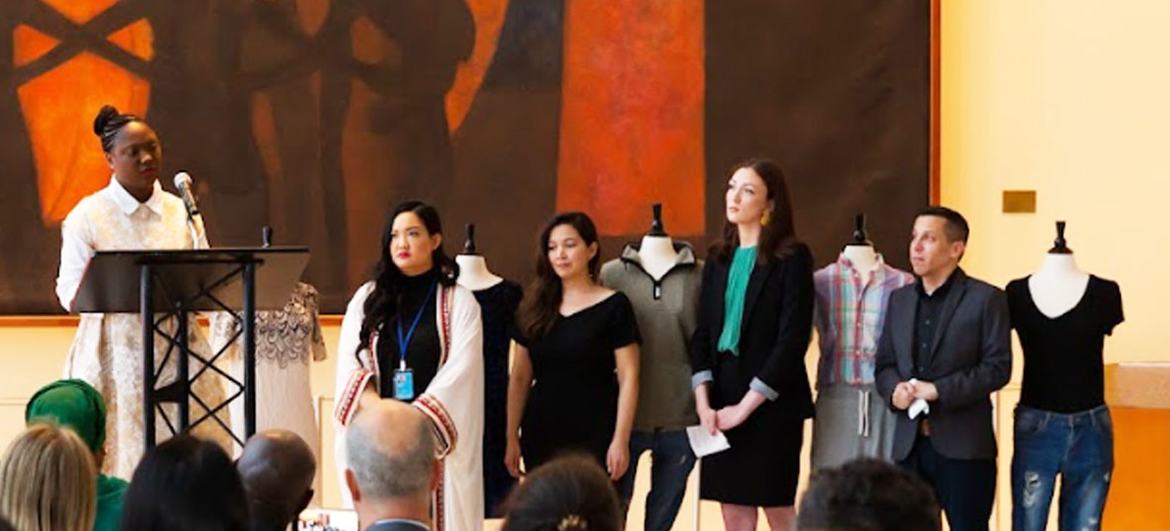 Iniative focus
Sexual assault survivor Kadijatu Grace recounts her harrowing story at a reception "What are you wearing?" Exhibition at UN Headquarters in New York.
Change system
Back in 2019, Britney Lane was sexually assaulted by a colleague during a night out with friends.
"I repeated my story many times that day, starting with the local police and ending with staff from two different hospitals. The first question I get asked by almost every police officer and doctor is: what are you wearing? "
At the time of the attack, the officer who received her statement advised Britney not to press charges, saying there did not appear to be enough evidence.
"Like many other survivors, I felt confused, ashamed and guilty," she said. "I can't change what happened to me that night, but I can work to change the system to make sure no one else is at fault."
I can work on changing the system to make sure no one else fails – Activist Survivor
Advocating for justice
Amanda still remembers spending six hours in the hospital the night after she was raped.
"I feel very alone."
The first time she told her story to public officials, the woman who later founded Rise went home crying.
"They do not care. But the next morning, I woke up and I did it again."
En To speak before Congress, Amanda's stern Uber driver asked where she was going. After being told, he began to cry, opening up that his daughter had also been raped.
"Can I shake your hand?" he asked when they arrived. "Thank you so much for fighting for my daughter."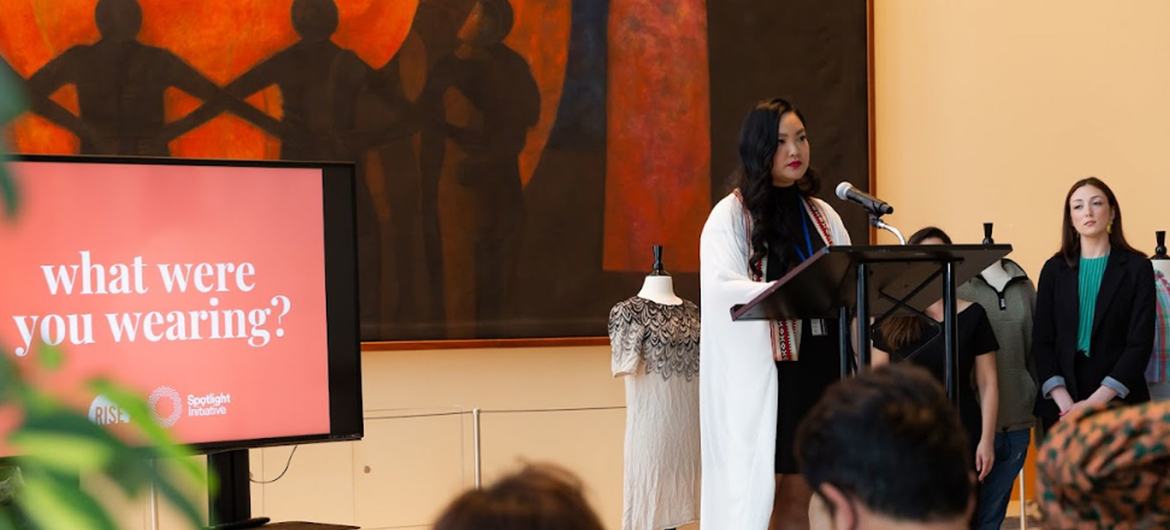 Iniative focus
Amanda Nguyen, CEO and Founder of Rise, sexual assault victim, speaks during the reception of the exhibition in the Sputnik Hall of the United Nations Headquarters in New York.
Resolution
Although protesters marched around the world demanding justice for survivors and hashtags, such as #MeTo, have gone viral on social media, the United Nations General Assembly The United Nations has yet to pass a resolution focused solely on protecting survivors of sexual violence.
However, it unanimously adopted a agenda item protect access to justice for victims of sexual assault and permanently include it on the Council's list to be discussed annually by Member States of the United Nations.
At the same time, a resolution was drafted, providing general authority to prosecute criminals, the ability to terminate legal relations with the attacker, and the ability to report the crime without paying financial fees to the victim. core.
Paris Hilton, the niece of a US hotelier, aged 16, was woken up by two men with handcuffs and driven across state lines to a residential treatment facility.
"For two years, I endured physical, psychological and sexual abuse by employees. I feel so helpless. I am here today because this abuse is still going on," she said in support of the proposed draft.