Business
Family-run business's new technology top priority: Report
MUMBAI: Adoption new technology seems to be the highest priority of family businesses across India. That's because increasing competition, shrinking markets, and lack of access to technology and product obsolescence are now their biggest challenges, whether in manufacturing or service.
Areport titled 'State of Family Business in India', released by SP Jain Institute for Management Research, says once the technology is adopted,
business
growth will accelerate. In the past year, service enterprises outperformed manufacturing enterprises in business parameters such as sales, market share, profitability, number of employed workers and profit-per-share. revenue.
The survey studied 350 family businesses from 50 Indian cities. Nearly 40% of enterprises surveyed are in the manufacturing sector, while 60% are in the service sector. What is interesting is that a large percentage of businesses surveyed expect to recruit professionals to senior management positions in the coming year. Sadly, only a very small percentage of family businesses reported having a female referral in the last year.
Top family priorities for the coming year include "increasing next generation involvement in family business management" (39.4%), followed by "establishing family councils" or other forms of family management" (25%). Next on the list is tapping into newer domestic markets.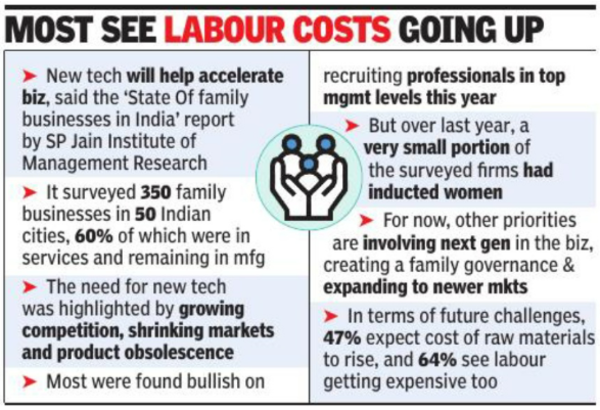 However, succession planning, training women and other non-active family members in various aspects of the business are not high in the family's short-term priorities. Making a will in writing and sharing it with all family members is also not one of the important issues. Cutting costs, investing in research & development, providing more jobs, or even tapping into international markets are not the top-ranked short-term business priorities.
Of those surveyed, 47% expect raw material costs to increase next year, and 64% of surveyed home businesses forecast their labor costs to increase as well. Going forward, the center and its head, Professor Tulsi Jayakumar, executive director of the family business center, finds that 'family' and its limitations to business success are often overlooked. skip.
"It is clear that family businesses face more obstacles from family issues than from the business side. Therefore, although the business environment is uncertain, it is clear that the survey shows that small and medium-sized family businesses face greater challenges due to lack of corporate governance and lack of inheritance. MSME family businesses will not only require industry-specific training programs, but also require more leadership and human resource development programs."