News
California continues to reel under more than a foot of rain in some areas. Here is a look.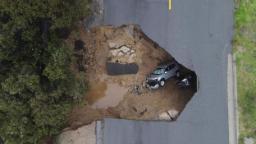 California has gone from severe drought to severe flooding in a few days, with 90% of the population of the state under flood monitoring when another storm hits. The sudden change highlights The dilemma California faces: How do you manage excessive rainfall in a water scarcity situation? And could that water be harnessed to make it available during the dry summer months?
Part of the solution, climate scientists told CNN, is to retract levees to allow rivers more room to safely flood into the surrounding land.
Peter Gleick, a climate scientist and co-founder of the Pacific Institute in Oakland, told CNN: "We have to let our rivers flow differently, let the rivers flood a little bit more. and replenish groundwater for us in the rainy season." "Instead of thinking we can control all the floods, we have to learn to live with them."
Dikes have effectively protected communities in the past, Gleick said, but they are not designed to deal with today's climate change challenges.
"We need new thinking, we need to operate that infrastructure differently, we need to change some of the features of that infrastructure," Gleick said. "That would allow us to capture more of these flood flows, store them underground in these aquifers, and then use those groundwater resources when we need them during the dry years. "
Many climate experts agree – using levees to prevent flooding during the wet season means less water to seep into aquifers. Those aquifers are an important source of water for drinking, bathing, and agriculture throughout California's Central Valley, and they're running out.
But giving rivers more space for flooding has a downside. That means entire communities will need to be relocated; This process is called managed withdrawal.
Nicholas Pinter, a researcher and professor of applied geosciences at the University of California at Davis, admits a controlled retreat is a daunting task but notes that other countries are doing it.
"We're behind the curve on this," Pinter told CNN. "Europeans in the 1990s started doing this. They have invested billions of euros to withdraw the dike."
Pinter said the US has always been inclined to build infrastructure to provide protection.
"We have always had a technical mentality with strong ownership," says Pinter. "Property owners are also strongly opposed to having to give up ownership of their property."
There is also a risk of pushback from political leaders worried about lost property tax revenue and loss of land to build and develop, Pinter said.
A concept like controlled withdrawal requires a psychological shift, which would be extremely difficult to achieve, Gleick said. "These changes are easier said than done but they have to be implemented."
Both Pinter and Gleick say managed retreat is just one tool in the box when it comes to adapting to more extreme weather. Gleick notes that there are many other policies that countries should consider.
"We have to redesign insurance policies so that we don't rebuild homes after they've been damaged in the very places where they would be subject to recurring flooding," Gleick said. "We have to design flood insurance policies to encourage people to move out of floodplains, so that we can expand those floodplains, so that when we have floods, they cause less damage. more damage."